What is the Eligibility Criteria For Sub-broker?
Investing in the stock market has always been considered as one of the preferred strategies for risk aggressive investors and institutional investors. However, in recent years, the number of retail investors in India has also seen a steep rise. This was further amplified by the effects of the COVID-19 pandemic. In fact, the share of non-institutional (or retail) investors in the cash segment attained a decade high of 68% in June 2020.
All of these developments have together created an increase in demand and new avenues of opportunities in the industry for investors. And consequently, this has also resulted in a rise in demand for financial and ancillary services in the investment sector. Dozens of broking houses have emerged in recent years, and their broking model has transitioned from tradition to flat discount brokerage.
Increasing Prominence in the Role of Sub-brokers
In the rush of investors flooding the markets, it's not only the broking houses who have their schedules full and busy. The role of sub brokers in keeping the investment ecosystem in place has also gained more prominence. Also known as authorised persons (APs) in some cases, sub brokers act as the middlemen between stockbrokers and investors. Aspiring entrepreneurs and businesses can venture into the sub broking field and act as the connecting agents between investors and brokers.
A sub broker essentially acts on behalf of a registered trading member or stockbroker and helps investors deal with securities and financial assets. If you have a fair bit of knowledge about the financial markets and if you're passionate about investing in financial assets like stocks and securities, it may be a good idea to consider venturing into the sub broking business.
If you've already been thinking over this, you're perhaps wondering how to go about this. Well, to begin with, you need to be aware of the sub broker eligibility criteria. Once you know the sub broker qualification details, you'll be in a better position to evaluate if that's a course of action that you can pursue.
So, without further ado, let's get into the details of what the eligibility criteria for sub brokers is.
Sub-broker Eligibility Criteria
The exact eligibility criteria and sub broker qualifications required may vary depending on the trading member you wish to partner with. Broadly speaking, however, these are some of the qualifications that you must fulfill or possess.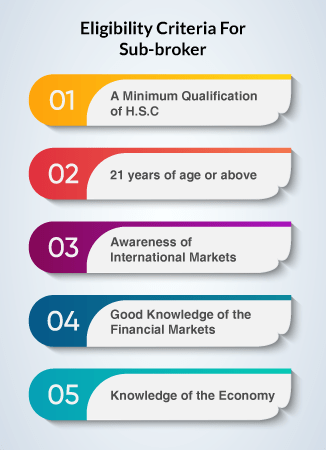 Should have a minimum qualification of H.S.C

Should be 21 years of age or above

Should not be a trading member of the exchange

Should not be a registered sub broker with any other trading member

Should not be a shareholder or partner of a registered sub broker

Should not be a defaulter in any other stock exchange
Other Preferred Sub-broker Qualifications
Aside from the eligibility criteria mentioned above, there are some other qualifications that it is preferable to have. Here's a closer look at some of them.
Good Knowledge of the Financial Markets
This comes in handy when you need to advise clients about their investment strategies. It's important that you recommend investments that are suited to the risk and return profile of the investor.
Merely knowing how the markets function is not enough. You need to also know more about the events and influencers that affect the economy, since they will also impact the financial market.
Since stock broking is a very competitive business, it can help if you are persuasive by nature, so you can encourage investors to choose the trading member you've partnered with and to engage with you as their preferred advisor.
Awareness of International Markets
Moving beyond the financial markets and the national economy, sub brokers also need to have up-to-date knowledge of international happenings, since they can influence how the Indian markets move as well.
Sub brokers qualifications also require that you be literate in computers and technology, since you would need to help investors trading electronically on the stock markets.
Sub broking is a lucrative business, particularly for people who are interested in the financial markets and for people passionate about investing. Today, many of the leading stockbroking houses in the country offer their own sub broking and partnership programs for people interested in becoming sub brokers. This field is also highly suitable for millennials who wish to become entrepreneurs, start their own business and work from anywhere, at any time. It can also help professionals as well as homemakers expand their scope of work and hone their expertise in this field.
If you're interested in venturing into this area, make sure you're aware of the sub broker eligibility criteria and the sub broker qualifications set by the trading member you intend to partner with. You can consider partnering with reputed firms like IIFL as a sub-broker.