How to Become a Sub Broker?
In India, the stock market has lately been experiencing a meteoric rise in popularity. In fact, in the first half of the year 2020 alone, there's data that clearly shows that millions of demat accounts have been opened by retail individuals. However, retail individuals and institutional investors alike are not allowed to trade directly with the stock exchanges. They can only do so through a stockbroker.
And with an ever-growing number of individuals wanting to trade in the stock markets and only a handful of stockbroking houses to service such a huge and expanding client base, the opportunities for sub brokers have now become more widespread than ever. Sub broking can be an exciting opportunity for aspiring entrepreneurs looking to establish their own business. Continue reading to know all about who a sub broker is and how to become a sub broker.
According to the definition on the National Stock Exchange, a sub broker is a person who acts on behalf of a Trading Member (a stockbroking firm) as an agent. The role of a sub broker is to basically assist investors with respect to their dealings in shares and other securities via the stockbroking firm. Other duties and responsibilities include the following:
Actively participating in the business development and sales process of the stockbroker.

Maintaining the quality of their client's trades.

Enabling their client base to take informed trading decisions.

Giving their client base investment suggestions and stock tips.
How to Become a Sub Broker?
Now that you're aware of who a sub broker is, let's take a look at how to become a sub broker.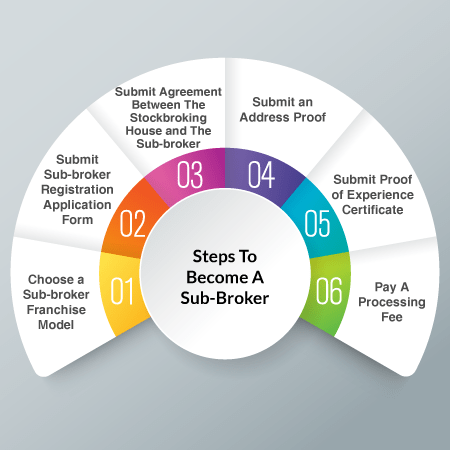 Firstly, you're required to choose the best sub broker franchise model that you wish to be a part of. One way to go about this would be to carefully read through the various stockbroking houses' business models and to choose the model that you like.

Once you've chosen the best sub broker franchise model, check the eligibility criteria. For individuals, the eligibility criteria is quite basic.

Upon ensuring that you satisfy the Sub broker eligibility criteria, the next step is to submit all the duly filled relevant documents with the stockbroking house with whom you would like to enter into a partnership. The list of documents to be submitted are as follows:
a. Sub broker registration application form
b. Agreement between the stockbroking house and the sub broker, duly signed by the applicant
c. Proof of address of the applicant. The address on the proof of address document should match that of the application form. Accepted proof of address documents are listed below.
i. Latest telephone bill
ii. Latest electricity bill
iii. Valid ration card
iv. Valid passport
V. Valid driving license
Vi. Bank statement of the previous month
d. Proof of experience certificate. This is applicable only in cases where the applicant's qualification is lower than HSC.
e. Other relevant documents as necessary.
4. Along with the submission of all the necessary documents with the stockbroking house, you would have to remit a processing fee of Rs. 2,000 plus GST.
5. Upon receiving the set of documents and the fee, the stockbroker would then forward your application electronically to the exchange and make the payment for processing the sub broker application form on your behalf.
6. Once that is done, all the documents are then thoroughly scrutinized by the exchange to ensure that there are no deficiencies. In the event of any deficiency, the exchange would send the application form and the documents back for correction and subsequent re-submission.
7. Upon successful approval of the application form by the exchange, you would then be required to remit the requisite SEBI registration fees to the stockbroker, who would in turn remit the same to the exchange on your behalf.
8. After the receipt of the SEBI registration fees, you will receive a sub broker registration certificate from SEBI and a registration number.
Upon the receipt of the registration certificate, you are then officially considered to be a sub broker.
IIFL offers one of the best sub broker franchise models in the entire Indian stockbroking scene. A strong brand name, an intuitive tab-based advisory platform, cutting-edge trading platforms, and best in class research reports are some of the unique features that you get to experience by partnering with IIFL.
By choosing IIFL as a business partner, you also get to enjoy several other benefits such as a high revenue sharing model, personal assistance, personalized branding, investor awareness programs, and access to a robust back-office infrastructure and risk management systems.
As a sub broker with IIFL, you also get access to an extensive product range that includes not only equities and mutual funds, but also NCDs, bonds, and other insurance products. With more than 15,000 franchise partners and over 40 lakh customers, IIFL's sub broker program is without a doubt one of the best sub broker franchise models in India.
Partner with IIFL now, and enjoy unlimited possibilities!